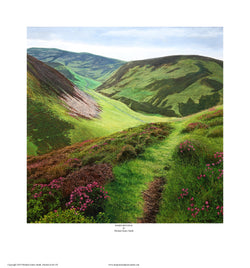 Michael James Smith
"Bamford Edge" Open edition print
Image Size 11 x 11 inches
This print is made to order and is delivered rolled.
This is the stunning view from Bamford Edge in the High Peak in Derbyshire, England. The colours change throughout the seasons (as does the weather!) which adds to the vibrancy of the place. If your timing is good and you reach the top when the weather is fine and clear, you may just get to see this beautiful view in person. 
Since 1st January 2019 official Michael James Smith prints have had an embossed certification seal on the bottom right corner of the white border. Any prints without the embossed seal purchased after this date are forgeries.