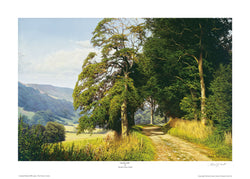 Michael James Smith
"Scotland" Limited Edition Print
Image Size 12 x 18 inches
Limited to 850 Prints
This print is delivered rolled.
The trees along this path are so majestic and they made a beautiful focus to the hilly backdrop. Each print will be signed and numbered by me personally and I will provide an accompanying certificate of authenticity.
Since 1st January 2019 official Michael James Smith prints have had an embossed certification seal on the bottom right corner of the white boarder. Any prints without the embossed seal purchased after this date are forgeries.  A certified print is also hand signed by Michael in pencil reading "Michael J Smith" and not "Michael James Smith".