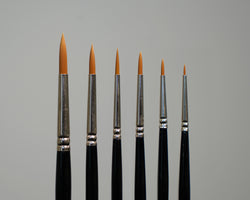 Michael James Smith
Pointed Brush Variety Set
Make savings on pointed Brushes with this Set.

This brush is an essential tool for every artist. It's a universal brush that can be used for all subjects including landscape, portraiture and still life. Mainly used for painting small details where precision is a must!
Can be used with oil and acrylics
synthetic 
short handle
comes in 6 sizes; 3/0, 2/0, 1, 2, 4 and 6
For further information on all of my equipment visit my knowledge base below.