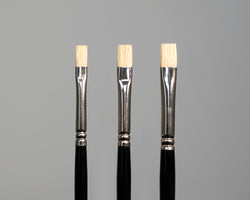 Michael James Smith
Synthetic Bristle Flat Brush Variety Set - Series 12
The Michael James Smith Synthetic Bristle Flat Brush Variety Set contains 3 essential brushes (all on a short handle). These handmade brushes have been developed for me exclusively. If you want to use the same tools that I use in creating photorealistic paintings then this Set is for you.

The set contains the series 12, Synthetic Bristle Flat Brushes (size 1, 2, 3). These brushes are an essential tool for every artist. They're a universal brush that can be used for all subjects including landscape, portraiture and still life. Mainly used for painting small details such as leaves and foliage. Makes quick work of distant foliage. It is designed to have a slightly uneven bristle.
For use with oil and acrylic paints.
This is a certified official product.