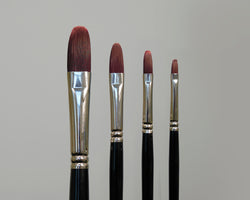 Michael James Smith
Synthetic Filbert Brush Set
The Michael James Smith Filbert Brush Set contains 4 essential brushes (all on a short handle). These handmade brushes have been developed for me exclusively. If you want to use the same tools that I use in creating photorealistic paintings then this Filbert Brush Set is for you.

The set contains the series 10, Synthetic Filbert Brush (size 0, 2, 4, 8). These Brushes are designed to apply smooth paint layers over larger areas. Its perfect for blocking in, painting skies and water.
For use with oil and acrylic paints.
This is a certified official product.