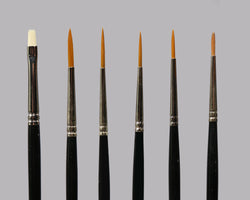 Michael James Smith
Top Up Brush Set
The Michael James Smith Top Up Set contains 6 essential brushes (all on a short handle). These handmade brushes have been developed for me exclusively. If you want to use the same tools that I use in creating photorealistic paintings then this Top Up Brush set is for you.

The set contains series 1 Rigger Brush (size 0,1,2), series 2 Pointed Brush (size 1,2) and series 6 Short Flat (size 1). These are the most delicate brushes from the Professional Set.
For use with oil and acrylic paints.
This is a certified official product.