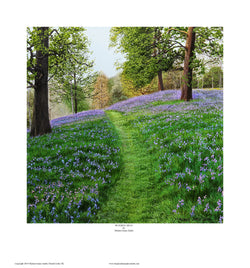 Michael James Smith
"bluebell hills" Open edition print
Image Size 12 x 12 inches
This print is made to order and is delivered rolled.
Looking for attractive but simple scenes that make good lessons is more difficult than you'd think! This beautiful, lush green woodland carpet with a delicate splattering of bluebells is the perfect image to be released as a giclee open edition print. It is printed on conservation quality paper using light-fast inks.
Since 1st January 2019 official Michael James Smith prints have had an embossed certification seal on the bottom right corner of the white border. Any prints without the embossed seal purchased after this date are forgeries.