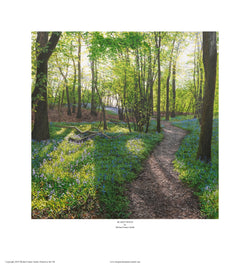 Michael James Smith
"Blakes Wood" Open edition print
Image Size 12 x 12 inches
This print is made to order and is delivered rolled.
As my children are getting older and more responsible, my wife and I are regularly able to steal an hour to go for an uninterrupted walk around our village. One of our favourite walks starts through our little garden gate and into the woods, then downhill towards the valley and the river, past the lock and back up the hill again towards Blakes Wood. This reference photograph was taken on one such evening walk. The shadows being cast by the setting sun are what drew me to this particular scene (one of many taken that day). 
Since 1st January 2019 official Michael James Smith prints have had an embossed certification seal on the bottom right corner of the white border. Any prints without the embossed seal purchased after this date are forgeries.