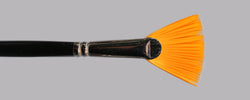 Michael James Smith
Blender Fan Brush - Series 8
This brush is an essential tool for every artist. It's a universal brush that can be used for all subjects including landscape, portraiture and still life. Used for blending and softening wet areas of paint.
Can be used with oil and acrylics
synthetic 
short handle
comes in one size, medium
This brush is included in the Professional Set.
Check out our article on our painting equipment: