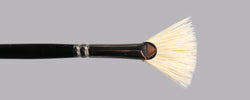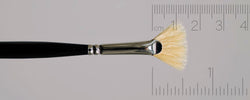 Michael James Smith
Fan Brushes - Series 4
This brush is an essential tool for every artist. It's a universal brush that can be used for all subjects including landscape, portraiture and still life. Mainly used for painting texture or foliage details in Landscapes. It is designed to have an uneven bristle.
Can be used with oil and acrylics
Hog Hair
short handle
comes in two sizes
For further information on all of my equipment visit my knowledge base below.