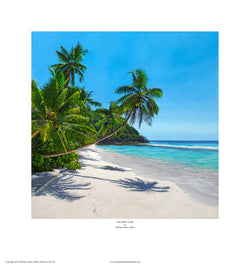 Michael James Smith
"Paradise Sand" Open edition print
Image Size 12 x 12 inches
This print is made to order and is delivered rolled.
In times gone by, I would have loved to have painted scenes like this but couldn't have afforded the time to do so. As a professional artist, my work has been about supplying the demand of both galleries and agents and the work I've done over the majority of the past 25 years has reflected that. With the introduction of MJS Tv and the support of people like you, I can now paint without restriction and I'm loving painting more diverse subjects like this beautiful tropical beach. A huge thank you for making this possible and allowing me to share the experience with you.
Since 1st January 2019 official Michael James Smith prints have had an embossed certification seal on the bottom right corner of the white border. Any prints without the embossed seal purchased after this date are forgeries.