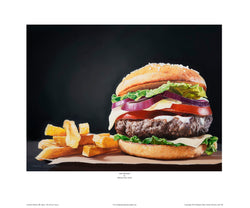 Michael James Smith
"The Burger" Limited Edition Print
Image Size 12 x 16 inches
Limited to 200 Prints
This print is made to order and is delivered rolled.
This subject was inspired by the modern hyperreal movement and in particular the artist Tjalf Sparnaay, who specialises in painting food. This is my modern take on a traditional still life. Many hyperreal artists paint on a huge scale with the objects being massively oversized. Painting in this style on a smaller scale calls for much better brush control and technique; in fact it's more challenging in every way!
Since 1st January 2019 official Michael James Smith prints have had an embossed certification seal on the bottom right corner of the white border. Any prints without the embossed seal purchased after this date are forgeries.