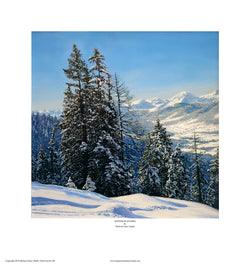 Michael James Smith
"Winter in Austria" Open edition print
Image Size 12 x 12 inches
This print is made to order and is delivered rolled.
My family and I have spent many a happy time skiing in the Austrian Alps. I love Austria and this scene is an example of it's stunning scenery. This painting was the subject of a painting lesson on MJS Tv. 
Since 1st January 2019 official Michael James Smith prints have had an embossed certification seal on the bottom right corner of the white border. Any prints without the embossed seal purchased after this date are forgeries.